MEET Team HyperSciences and other Quarterfinalists at the American-Made Geothermal Manufacturing Prize
In continuation of our recent LinkedIn post on Team HypeSciences' advancement to the quarterfinals at the Geothermal Manufacturing Award competition, we feel it would be beneficial to briefly revisit the rules and requirements for contest participant's progression to each of the competition's four phases.
The American-Made Geothermal Manufacturing Prize (Geothermal Prize), sponsored by the U.S. Department of Energy in partnership with HeroX is designed to spur innovation and unites the world's best-in-class research base with the American-Made Network's unparalleled entrepreneurial support system. Competitors in the Ready!, Set!, Make!, and Geo! Contests participate in four escalating challenges.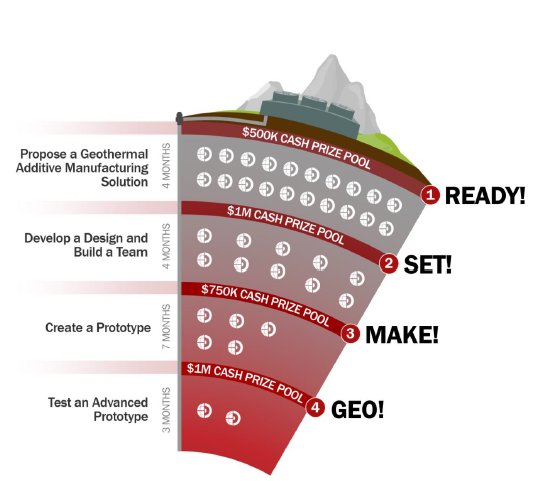 Our Creative Team at IMMIX Productions, Inc. worked together with Team HypersSciences, contributing 2D / 3D Animation clips, Motion Graphics, and Visualizations for each of their explainer video submissions. We look forward to future projects to accommodate our friends at HyperSciences, Inc., in this and other competitions.
In addition to Team HyperSciences (Spokane, WA) developing additive manufacturing case-while-drilling (CWD) geothermal wells with hypersonic impact auger drill and continuous 3D monobore concrete printed casing, there was a number of other talented teams that advanced to the quarterfinals phase of the competition.
Here they are: 
Source: Geothermal Additive Manufacturing $4.65m Challenge | HeroX. https://www.herox.com/GeothermalManufacturing
The deadline for submissions to the Geothermal Manufacturing Prize Set! phase of the competition was Feb. 17, 2021. Up to 10 semifinalists will be selected to split a $1 million cash prize pool. Additionally, each winning team will earn $75,000 in support vouchers to be used at national labs and partner facilities. 
About HeroX:
The leading platform for funded prizes for groundbreaking competitions. HeroX has solved thousands of challenges, successfully driving innovation for world-changing organizations like NASA, GE, Lululemon, Anheuser-Busch, Lockheed Martin, NFL, Harvard Innovation Lab, NBC, and hundreds of others. To learn more about how HeroX and its community of solvers can drive innovation for your organization, visit their SOLUTIONS page. HeroX was co-founded in 2013 by Serial Entrepreneur Christian Cotichini and XPRIZE Founder and Futurist Peter Diamandis. By maximizing the collective power of the global community, HeroX continues to transform the problem-solving marketplace to help organizations and individuals solve their toughest challenges.
ABOUT US:
At IMMIX Productions, we are constantly at the forefront of new visions, inventions, and emerging ventures, especially when 3D Modeling & Animated Visualization of the process is necessary to benefit their Marketing Strategy, Prototype / New Patent Registration, V.C. Pitch Deck, Crowdfunding Promotion, Explainer Video and/or Digital Brochure. Please, check out our 3D Animation, or Virtual Reality / Augmented Reality DEMO REELS, and visit our site for more samples, case studies, and success stories.
To discuss your upcoming project please contact our Creative Team at any of IMMIX Productions' offices below:
Houston, TX ( Main Office ) 713-789-8699
Austin, TX ( Regional Office ) 512-298-1296
Las Vegas / Henderson, NV ( Regional Office ) 702-545-6556
San Diego / Carlsbad, CA ( Regional Office ) 760-748-8989
NYC, New York ( Regional Office ) 646-493-1930